The wide, hooped gowns worn by women in the 18th-century court of Queen Charlotte were not just the style of the time, but a regal requirement.
But in the pleasure gardens and coffee houses, a fashion revolution was under way. Women and men were rejecting the formal grand costumes of the Georgian aristocracy in favour of new textiles and more comfortable clothes.
"It was a pivotal moment," said Anna Reynolds, the curator of Style & Society: Dressing the Georgians, an exhibition that opens this spring at the Queen's Gallery, Buckingham Palace.
"During this period, we start to see court dress lagging behind street style, with people from across a much broader social spectrum than ever before setting fashion trends."
The exhibition includes more than 200 works from the Royal Collection, including paintings, drawings and rare surviving examples of clothes and accessories, providing a picture of what the Georgians at court wore along with changing trends on the streets.
A rarely displayed full-length portrait of Queen Charlotte by Thomas Gainsborough, which usually hangs at Windsor Castle, depicts her in a magnificent hooped gown covered with gold spangles and tassels.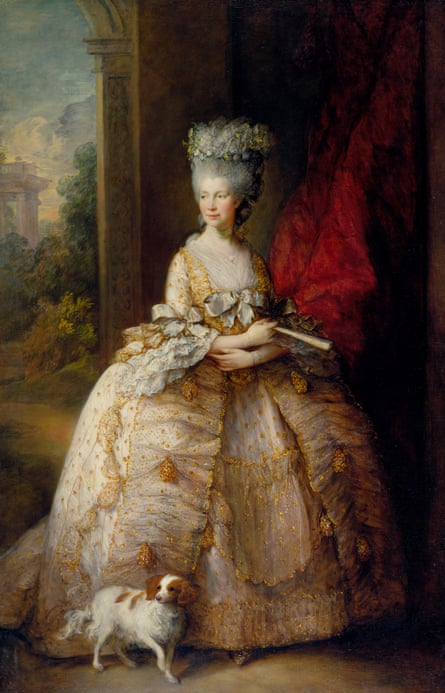 In contrast, St James's Park and the Mall, attributed to the British School, provides a scene from 18th-century London's most fashionable meeting place, taking in Frederick, Prince of Wales, and his lavishly dressed companions alongside soldiers, sailors and working-class serving women.
"The painting is really the poster image for the exhibition. You've got people from all walks of life. There's the Prince of Wales and his friends, and women selling cups of milk from a cow, a woman from the lower classes nursing her infant, a fireman – a real mixing of society," said Reynolds.
As well as the parks and pleasure gardens, people dressed to be seen in the new coffee houses and at the theatre. "This is where you get new fashions spreading."
Aprons, worn as protective items by working women, became a style item. "They became elegant, perhaps made from lace. Even Queen Charlotte wore an apron. You start to see trends moving up, rather than trickling down," said Reynolds.
"On the street, men start to wear a kind of coat known as the frock coat, characterised by having a little turn-down collar, and actually derived from labourers' clothing. Whereas at court you'd have to carry on wearing a coat with a stand-up collar."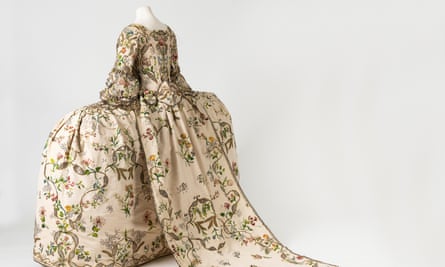 By the end of the 18th century, women's clothing was much less structured. A new fabric, cotton, began to be widely used. "You've got a type of dress known as a chemise dress, which was initially criticised because it looked like women's undergarments. They were in a much more comfortable, washable fabric, worn by everyone from maidservants to princesses."
The exhibition also explores advances in haircare, cosmetics, eyewear and dentistry, the birth of a specialised fashion press, and the development of shopping as a leisure activity.
Style & Society: Dressing the Georgians is at the Queen's Gallery, Buckingham Palace, from 21 April until 8 October.