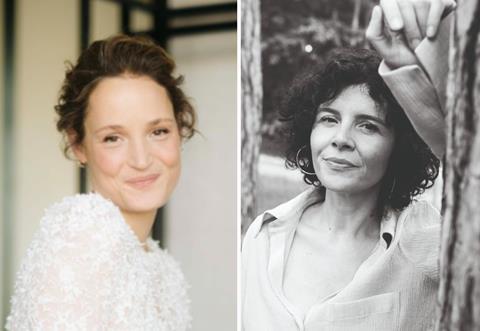 Austria's international feature Oscar contender Corsage takes its name from the French word for corset — the waist-defining garment that the 19th-century Empress Elisabeth of Austria wore daily to meet the expectations of her glamorous public image, and with which actress Vicky Krieps struggled on set in her quest to bring the empress to life in a modern way.
Set in the 1870s as the royal, popularly known as Sissi, is approaching her 40th birthday, the film reunites Austrian director Marie Kreutzer and Luxembourg-­born actress Krieps, who first worked together on 2016's We Used To Be Cool. Krieps (Phantom Thread, Bergman Island) is one of the executive producers and the film was her passion project. She convinced writer/director Kreutzer that Sissi was more interesting than the reductive image adorning china cups sold to tourists in Vienna, or actress Romy Schneider's Ernst Marischka-directed trilogy of Sissi films in the 1950s, but also a woman whose life and personal struggles and rebellions could be re-examined with a modern eye.
Corsage premiered in Cannes' Un Certain Regard section, where Krieps shared the best performance award, before becoming a festival hit at Toronto, BFI London (where it won best film), New York, San Sebastian and others. Corsage is a co-production between Austria (Film AG), Luxembourg (Samsa Film), Germany (Komplizen Film) and France (Kazak Productions), with Paris-based mk2 Films handling international sales. IFC Films releases in the US on December 23, while Picturehouse Entertainment's UK release a week later makes Corsage eligible for this year's Bafta Film Awards.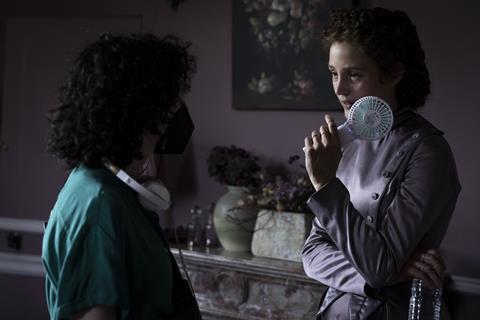 Screen International: Vicky, this was a passion project that started with you. Why was this the right time to look again at the story of Sissi and move on from some of the old clichés?
Vicky Krieps Marie and I are part of that generation that grew up free. Our mothers taught us that as a woman, we're allowed to be free and that we don't have to please in order to be loved. But when you grow up, when you go to high school, you realise, I do need to please, I do need to be cute and pretty. There are these images that are put on women. Now we're at the age that we can allow ourselves a right to have our own opinion. We're in a time where we have a society where we should be free, but so many things are going backwards, like how women are constantly terrorising themselves having to be beautiful with a certain shape of the body, and the corset is even coming back. It's sick.
Marie Kreutzer After I spoke to Vicky, I then read a biography and thought, "Maybe there's something in there." With this film, we focus on the time of her life when she was in her 30s and 40s. There were small and bigger acts of rebellion in these years around her 40th birthday when she was travelling or doing extreme sports. And refusing to eat — at these dinners nobody could make her touch the food and talk to anyone so she would just sit there for hours. I think that's really punk. I sense the rebellion everywhere and what I can relate to is rebelling against expectations as a woman.
This is your second film working together. Why do you make good collaborators?
Krieps We have understood that we only live once and we might just be who we are. We're both at the point of our career to say, "Well, I'm gonna do it my way. And if you don't like it, you don't like it."
Kreutzer We're both really careful with our work, but at the centre, it's not that everything has to be perfect. I don't have to over­analyse a project in order to do it, I can find out on the way. I think Vicky also loves the process and loves being in the moment and trusting the moment. And trusting the magic of what happens when creative people in a film team collaborate.
Vicky, how did you approach creating your version of Sissi?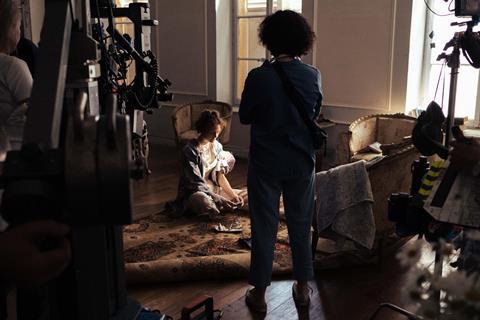 Krieps My initial thing was always about the woman behind the woman. Like with so many women, there's another woman, almost like a secret society behind us. I felt my grandmother was that way. She was seen to be caring for my grandfather, but as soon as he left the room it seemed like she was in charge. That was fascinating. With Sissi, I felt there was the same phenomenon.
I wanted to know how it feels to really wear the corset — which was very, very painful. And to learn the body language of how you would stand if you were aristocratic. I wanted to really learn how to ride and really learn how to fence. I had to learn these things so I could misbehave. I can only misbehave if I know how to behave first.
How physically challenging was this role?
Krieps Sometimes I didn't believe we could make it — I didn't tell this to Marie. Doing anything with a corset feels like walking the street when your ankle is tied to a ball of concrete, it's like you have to always pull an extra weight and it takes all your energy mentally but also physically, and then the mental affects the physical.
Marie, did you worry about her wearing this corset?
Kreutzer Yes, very much. We all underestimated that. In the scene with the painter, she was also in a dress that was so extremely fitted that she could not move her arms or anything. And I just started to cry, because I thought it's absurd. I want to make a film about a woman freeing herself, and then I put a woman in that for weeks, which is so brutal. It was a conflict, not between us but between us and the corset.
Krieps It's interesting you say the conflict was between us and the corset. We never talked about this, but it was hard for me to not let it get between us. I had to be so careful that I don't start hating you. Not consciously but just on a purely emotional level, I didn't want to be thinking, "I hate this movie and I hate everyone." It was something I had to consciously remind myself all the time.
Has working on this film made you reflect on womanhood today?
Kreutzer With every one of my scripts, people read it and say, "It's beautifully written but do you think people will like her?" This is what happens when you're writing complex female characters. People say, "But the audience is not going to like her." This offends me so much.
Krieps I have a lot of trouble with my children's schools judging me as a mother, that I should be at home and cooking food, which I am, just not constantly all the time. Now that we made the movie, I have been thinking even more about how unfair it was [in Sissi's time]. I didn't know how unfair the marriage situation was at the time that a man could marry any kind of woman [and] he would never lose his wealth or standing, but a woman could. Now that I've done the movie, and I've come close to the core of this unfairness, I'm less patient.